Chinese New Year is just around the corner. And what's a celebration without all the sweet treats? With our beloved relatives and friends around, it's the perfect moment to share some home-baked treats. 
Making baked goods from scratch doesn't always have to be complicated. With 6 ingredients or less, you can whip up some snacks to share with your loved ones.
We've compiled 10 Super Simple CNY Snack Recipes you can try, using 6 or less simple ingredients! You'll be glad to find out that some of your favourite Chinese New Year snacks are actually really easy to make!
10 Simple CNY Snacks With 6 Ingredients Or Less
1. Peanut Cookies

Image Credit: Foodie Baker
Peanut Cookies are an all-time favourite, but making it the traditional way can be quite time consuming, especially if you're looking to make everything from scratch, including roasting and grinding your own peanuts!
This recipe is the perfect shortcut. With some ready-made peanut butter and basic baking ingredients, you're just minutes away from munching into fragrant peanut cookies!
What you'll need:
180g flour

80g confectioners' sugar

½ tsp salt

100g peanut butter

80g peanut/vegetable oil

1 egg yolk + water (optional, for egg wash)
Get Foodie Baker's recipe for Peanut Cookies here.
2. Kuih Bahulu (Ji Dan Gao)

Image Credit: Nasi Lemak Lover
This old-school sponge cake is a nostalgic treat we all love. Made from eggs, flour, and sugar, Kuih Bahulu gets its fluffy texture from beating eggs and sugar until light and fluffy. This recipe adds salt and carbonated drink to enhance the flavour and texture of the cakes. Prepare some extra; these little cakes are so light and fluffy, they'll be gone in no time! 
What you'll need:
5 eggs

170g flour

150g sugar

⅛ tsp salt

3 tbsp carbonated drink
Get Nasi Lemak Lover's recipe for Kuih Bahulu here.

3. Cornflake Cookies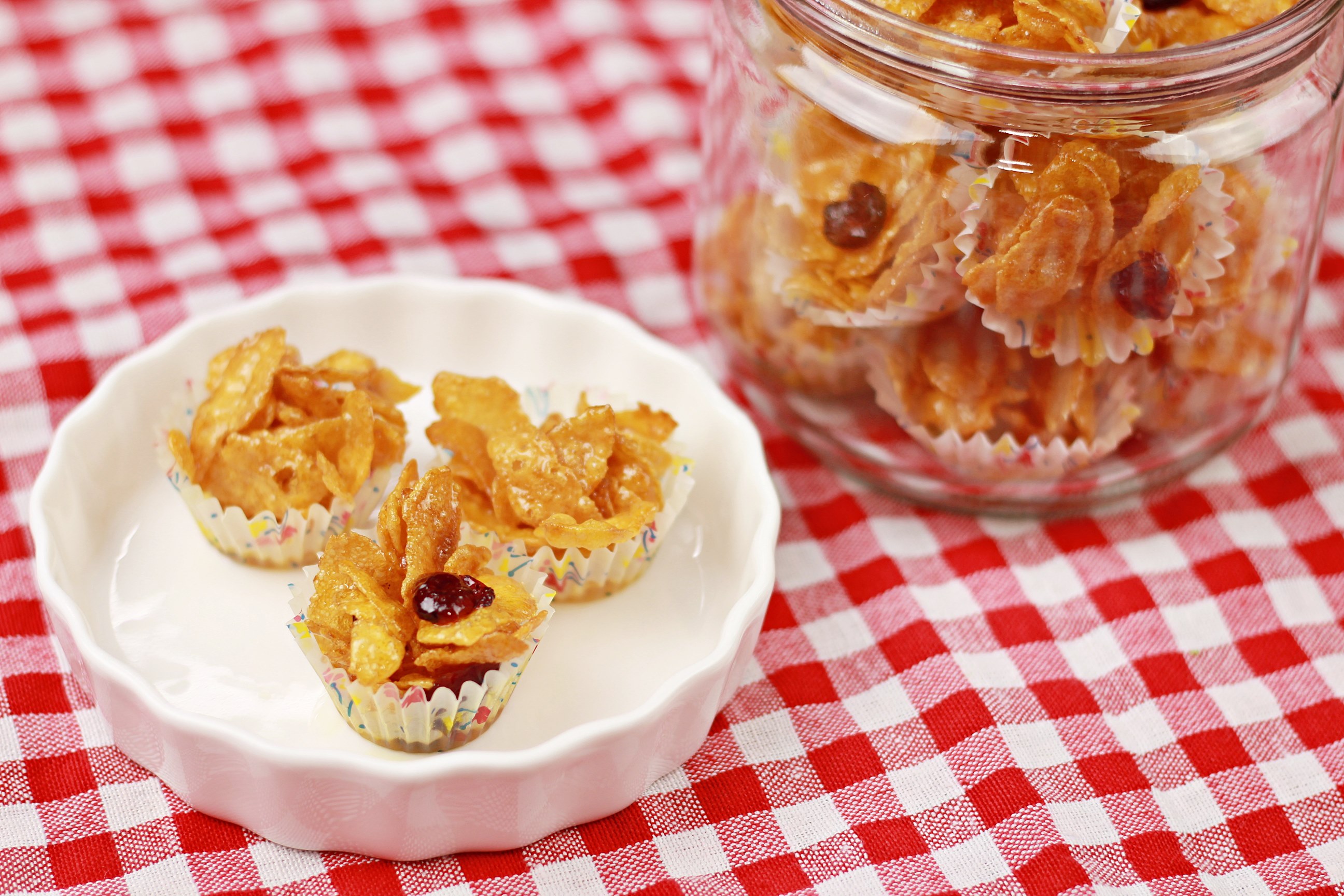 Image Credit: TheZongHan
You've probably made these cookies at some point in your childhood, and you can now relive the memories. These Cornflake Cookies require only three ingredients with no complicated steps at all! Optionally, you can add various toppings such as chocolate chips, dried cranberries and more to jazz things up! 
What you'll need:
90g plain cornflakes

90g honey

90g salted butter
Get TheZongHan's recipe for Cornflake Cookies here.
4. Almond Cookies

Image Credit: Bread et Butter
Fill one of your cookie jars with this popular nutty festive treat. Using lard instead of the usual vegetable oil makes these Almond Cookies pleasantly soft, tender, and melt in your mouth. These little bites of goodness won't last that long!
What you'll need:
250g flour 

240g ground almonds

90g confectioners' sugar

220g lard

Pinch of salt

1 egg
Get Bread et Butter's recipe for Almond Cookies here.

Love almond cookies? Check out our Salted Egg Yolk Almond Tuiles/Crisps baking kit which contains all the pre-portioned ingredients you'll need to bake up a huge batch of almond crisps that are perfect for sharing. Simply follow the detailed recipe and tutorial video provided for delicious cookies everyone will love.
5. Cashew Cookies

Image Credit: Guai Shu Shu
Nut-based cookies are a must-have every Chinese New Year. One of our favorites are these Cashew Cookies, which are made from finely ground roasted cashews. These light, crunchy cookies pack a bunch of nuttiness in every bite!
What you'll need:
400g cake flour

120g confectioners' sugar

250g butter

200g ground cashew nuts

30g milk powder

2 egg yolks
Get Guai Shu Shu's recipe for Cashew Cookies here.
6. Kue Bangkit

Image Credit: What To Cook Today
With a melt-in-your-mouth texture, Kue Bangkit is one cookie we can't not have every Chinese New Year. Many Kue Bangkit recipes require you to fry the flour over long periods of time, however this recipe provides a shortcut to doing so, and also provides tips on getting that melt-in-the-mouth texture we all love in these coconutty cookies. 
What you'll need:
500g tapioca flour

1 can coconut cream

3 egg yolks

180g–250g confectioners' sugar

⅛ tsp salt

5 pandan leaves
Get What To Cook Today's recipe for Kue Bangkit here.
7. Butter Cookies

Image Credit: Miss Tam Chiak
Instead of queuing for a tin of these cookies, why not try baking your own Butter Cookies? These fragrant, melt-in-your-mouth butter cookies are actually really simple to make. The secret to bakery-quality butter cookies is no other than using the right kind of butter! 
What you'll need:
200g butter

50g confectioners' sugar

50g all purpose flour

100g top flour

50g corn flour
Using a combination of different flours gives these cookies the desired texture. Learn more about the different types of flour in this guide! Pipe your cookies with a star piping tip to get the classic shape, or experiment with various piping tip shapes to make them uniquely yours.
Get Miss Tam Chiak's recipe for Butter Cookies here.
8. Bak Kwa Cookies

Image Credit: Bake For Happy Kids
These Bak Kwa Cookies require only 4 ingredients, no eggs, and no chilling time. They pack an interesting salty-sweet taste from the combination of honey and bak kwa. This recipe is so quick and easy to whip up, you can make them any time you want!
What you'll need:
75g flour

50g butter

60g honey

60g bak kwa
Get Bake For Happy Kids' recipe for Bak Kwa Cookies here.
9. Mango Sago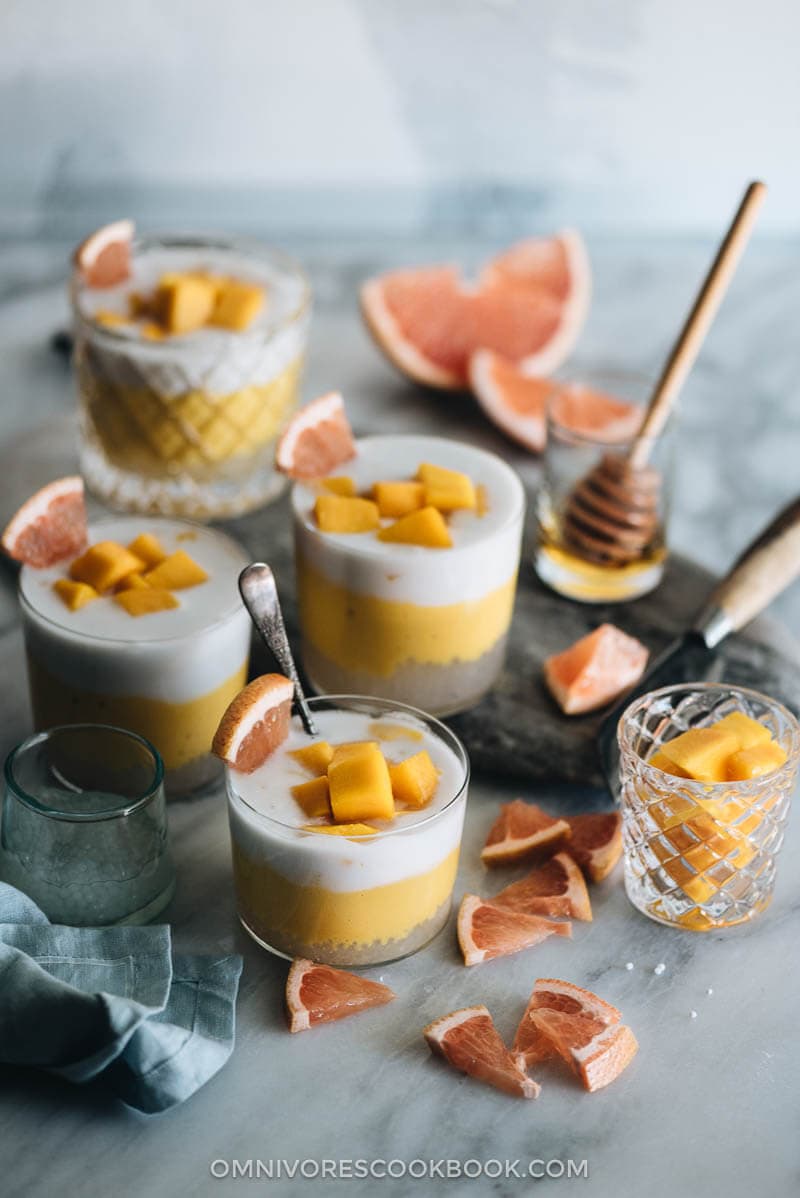 Image Credit: Omnivore's Cookbook
This mildly sweet, creamy dessert is a happiness in a cup. Every spoonful of this Mango Sago is loaded with mango chunks, chewy tapioca pearls, and creamy coconut milk. 
We're often served this refreshing dessert after restaurant dinners, but it's surprisingly easy to make on your own! For single-serve portions that are easy to transport, fill them in these reusable pots.
What you'll need:
2 big mangoes

45g tapioca (sago) pearls

176g evaporated milk

50g sugar

240ml coconut milk
Get Omnivore's Cookbook's recipe for Mango Sago here.
10. Almond Pudding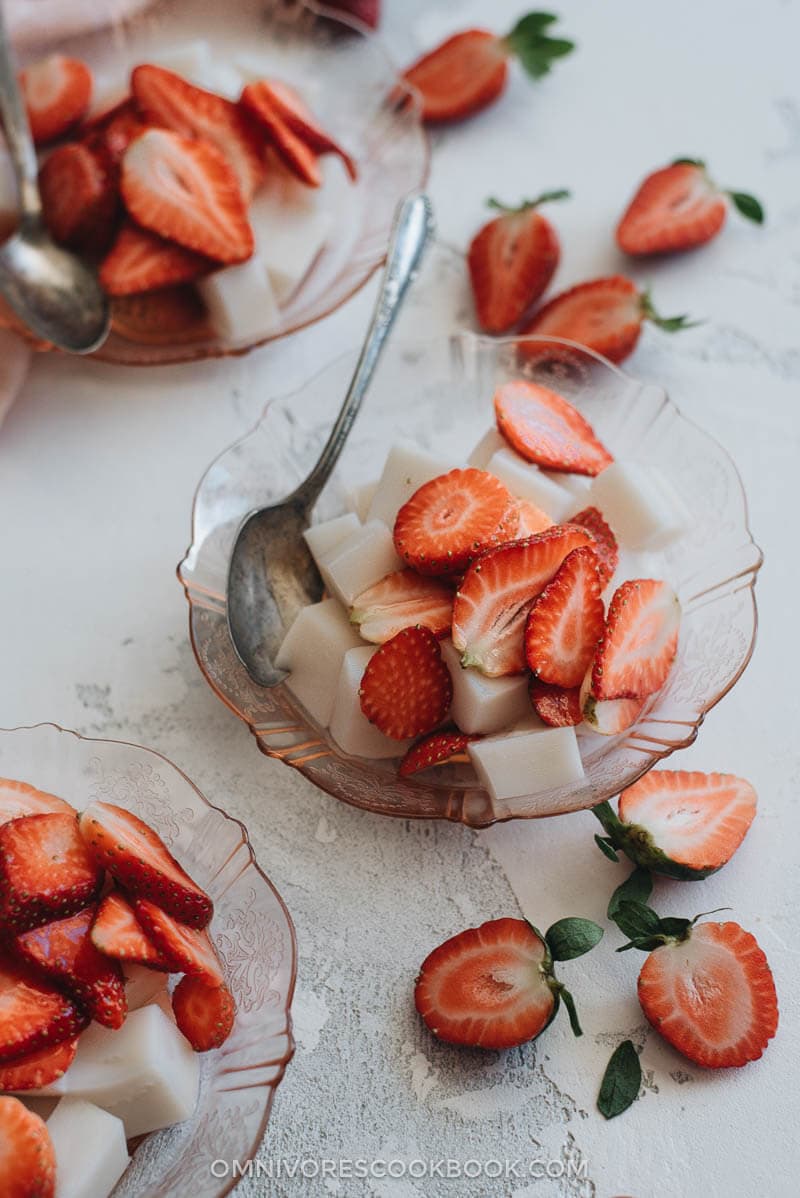 Image Credit: Omnivore's Cookbook
A light, refreshing dessert after a hearty meal can never go wrong. The traditional almond pudding is a bit finicky to make, but this shortcut Almond Pudding recipe cuts down the total time to 10 minutes—perfect for a last-minute dessert! Serve them in small cups for a perfectly sized after-dinner dessert.
What you'll need:
480ml unsweetened almond milk

14g gelatin

5 tbsp sugar

1 tsp almond extract

fresh strawberries (optional)
Get Omnivore's Cookbook's recipe for Almond Pudding here.
Simple CNY Snack Recipes 
With the Chinese New Year festive season fast approaching, it means it's the time to get busy spring cleaning, prepping the decorations, snacks, red packets and more! 
Being busy doesn't mean you have to stick to the same ol' store-bought snacks this Lunar New Year. These simple CNY recipes help add a personal touch to your snack table and CNY gifts this year. 

Bakestarters' Pineapple Tart Baking Kit

Alternatively, our Chinese New Year DIY baking kits provide all the ingredients you'll need in their required weights and portions, for you to bake up big batches of delicious Pineapple Tarts, Ondeh Ondeh Tarts, and Salted Egg Yolk Almond Crisps that are perfect for sharing and gifting. These hassle-free baking kits provide butter too, so you can start baking immediately without leaving the house to hunt for ingredients. 
Featured image credits to Foodie Baker, What To Cook Today, Miss Tam Chiak, Bake For Happy Kids, Omnivore's Cookbook and Bread et Butter.