Frequently Asked Questions
You have important questions, and we (hopefully) have all the answers.
Bakestarters' baking kits are designed to help you bake the best you can. Each baking kit comes with a fully developed recipe with detailed instructions, all the ingredients you'll need in the exact portions (except eggs), and parchment paper / selected disposable bakeware. That's right, that includes butter & other cold ingredients!
Do I need anything from my kitchen?
You'll need your own baking tools such as an oven, bowls, whisks, etc, and eggs. The list of recommended equipment will be given in the respective product pages. When required by the recipe, we provide parchment paper, skewers, as well as the following disposable bakeware:
Loaf pans

Tart pans

Self-standing cupcake liners
Are the baking kits suitable for my level?

When we design a baking kit and its recipe, we always do so knowing that a successful result is extremely important. As such, we provide resources such as a fully detailed recipe card, and our online video tutorials. Along with the accurately measured ingredients, we believe most of our kits are suitable for bakers of all levels. However, you might want to check the difficulty level at each product page before purchasing!
Do I need special equipment such as a kitchen or hand-mixer?
You do need an oven to bake most of our kits in, however, you do not need a kitchen mixer or hand-mixer. Special equipment can help you bake more effortlessly, however, you may bake our kits without the use of special equipment.
How long do the ingredients in my baking kits last?
Please look under the "Storage Information" section in each baking kit page as it differs based on which ingredients are provided.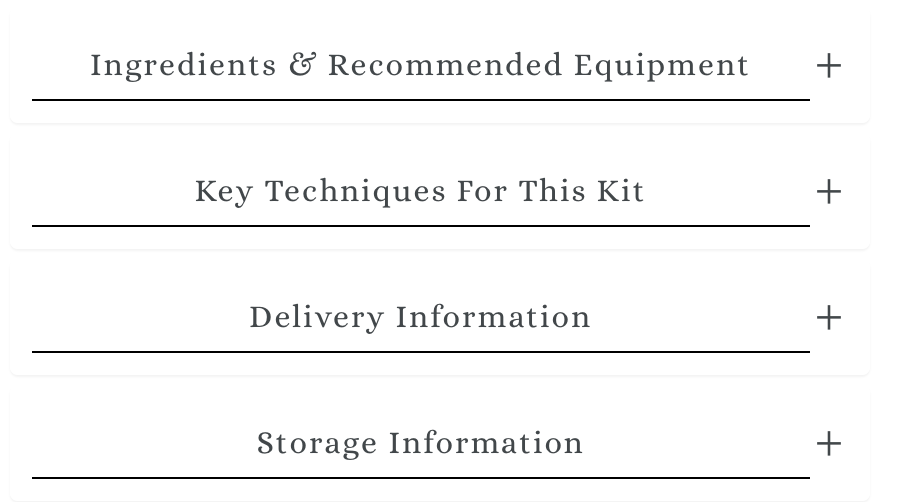 Can I bake the recipe from the baking kit again?
Yes, most certainly! All our recipe cards include the ingredients, required amounts, and steps, just like any other recipe would. Fun fact: Many of our users have their own Bakestarters recipe folder!
Can I select my own delivery date?

Please click here for more delivery information. If you have any special delivery requests, simply add it in the notes section prior to checking out.
What if I'm not home during delivery?
Fret not! All our cold ingredients come inside an insulated cold bag, with additional ice packs to ensure its freshness. They will be able to be kept fresh for hours, until you're home to refrigerate them.
Please click here for more delivery information. We offer standard doorstep delivery for all baking kit orders.
I have a discount code. How do I use it?
We've made it really easy for you to use your discount codes!
Desktop
Go to cart.

Click "Checkout"

On the right side of the page, input your discount code in the box.
Mobile
Go to cart.

Tap "Checkout"

Tap "Show Order Summary"

Input your discount code in the box.