Hojicha Kinako x Black Sesame Mochi
---
View the tutorial video here.
Scroll down to the end of the page for tips on making snow skin mooncakes! Please wash all new bakeware/utensils & the measuring cup provided in each kit properly before use. As these mooncakes are no-bake, please ensure proper hygiene when making them!
To ensure you're able to reference this recipe in future, please download this recipe to your digital device. To do so, please "right click > save image as" to save the respective images to your device.
This recipe is split into two different flavours: Please follow the sequence below, starting with the Hojicha Kinako, followed by the Black Sesame Mochi. Involve family and friends for bonding and extra help!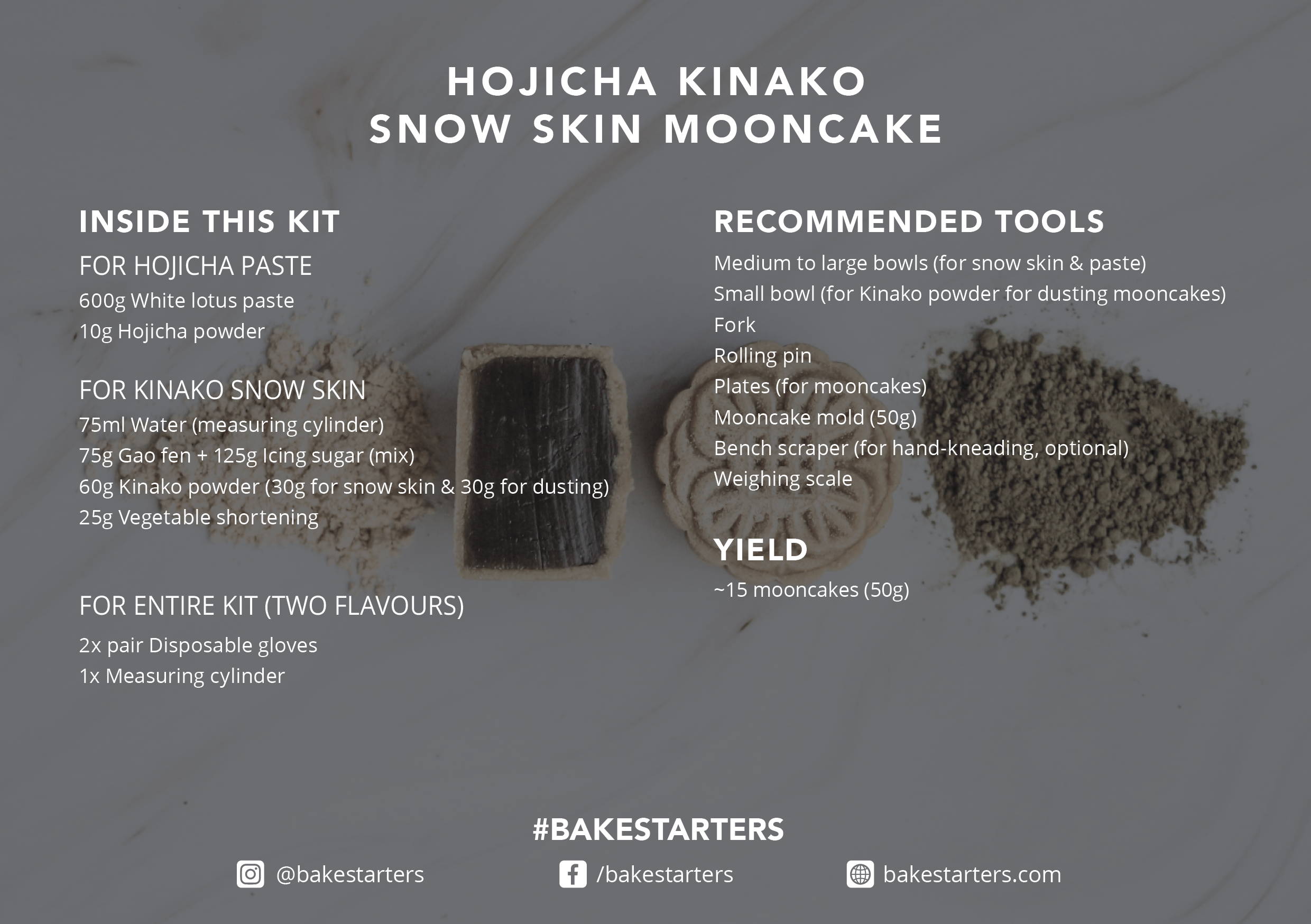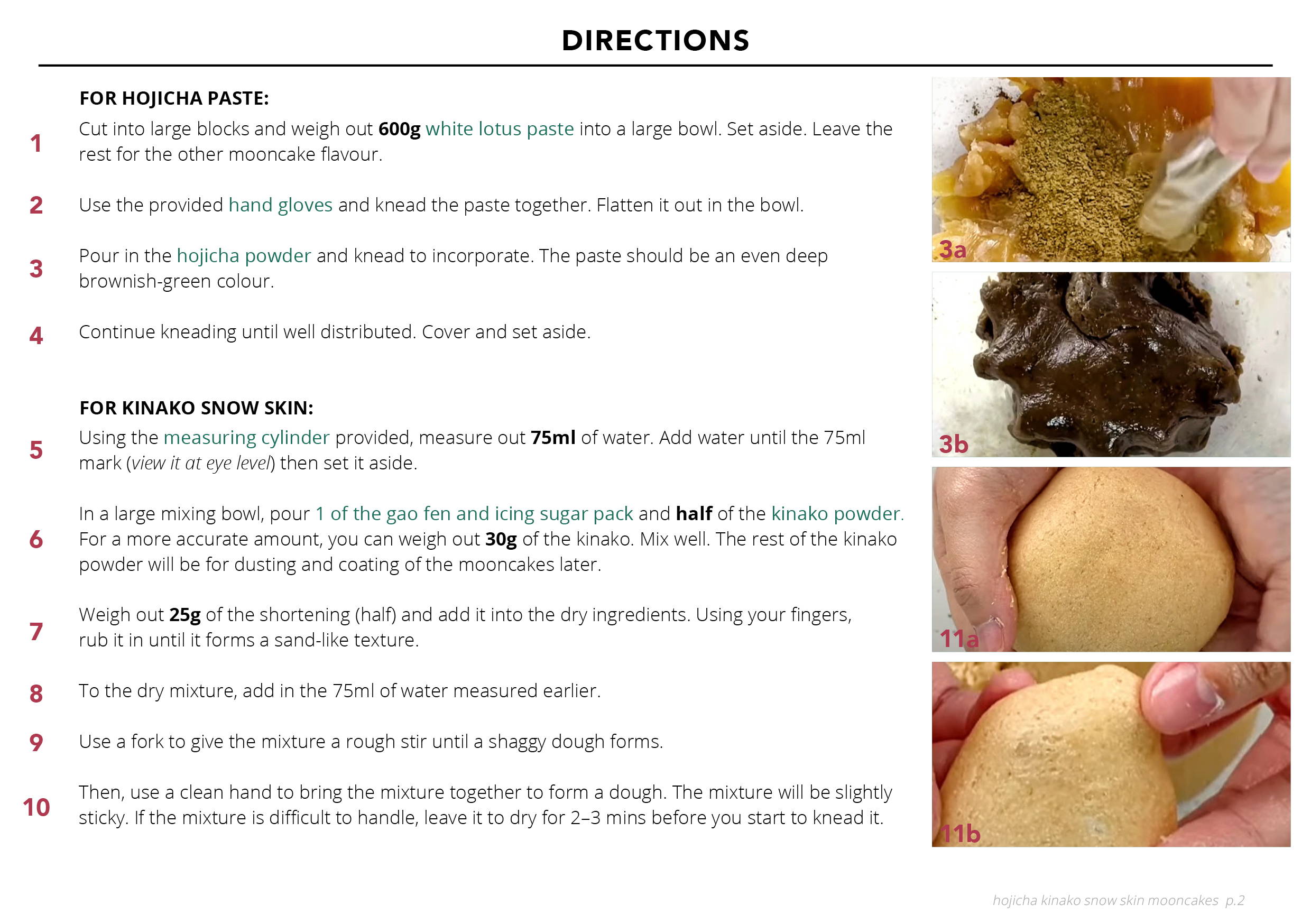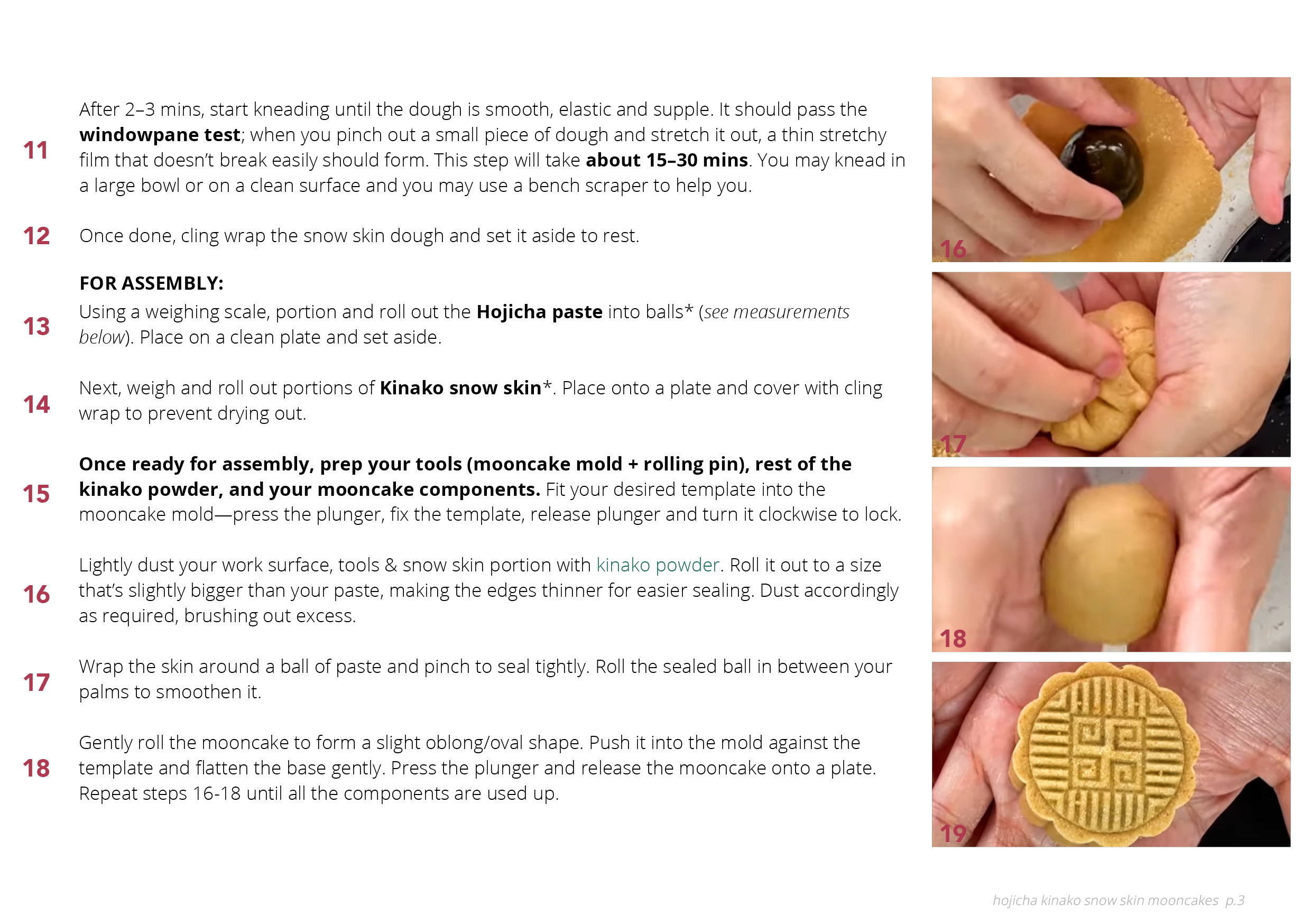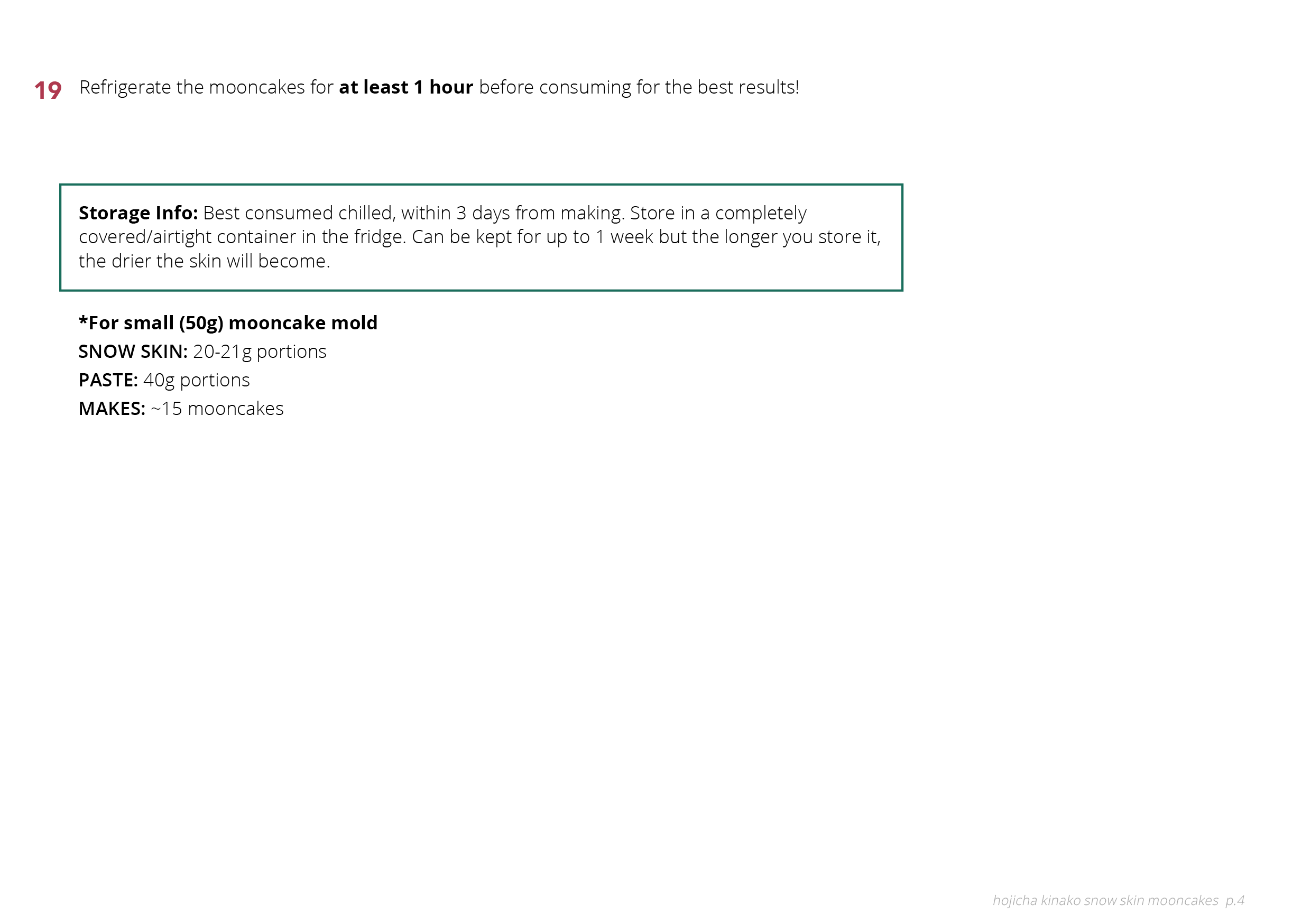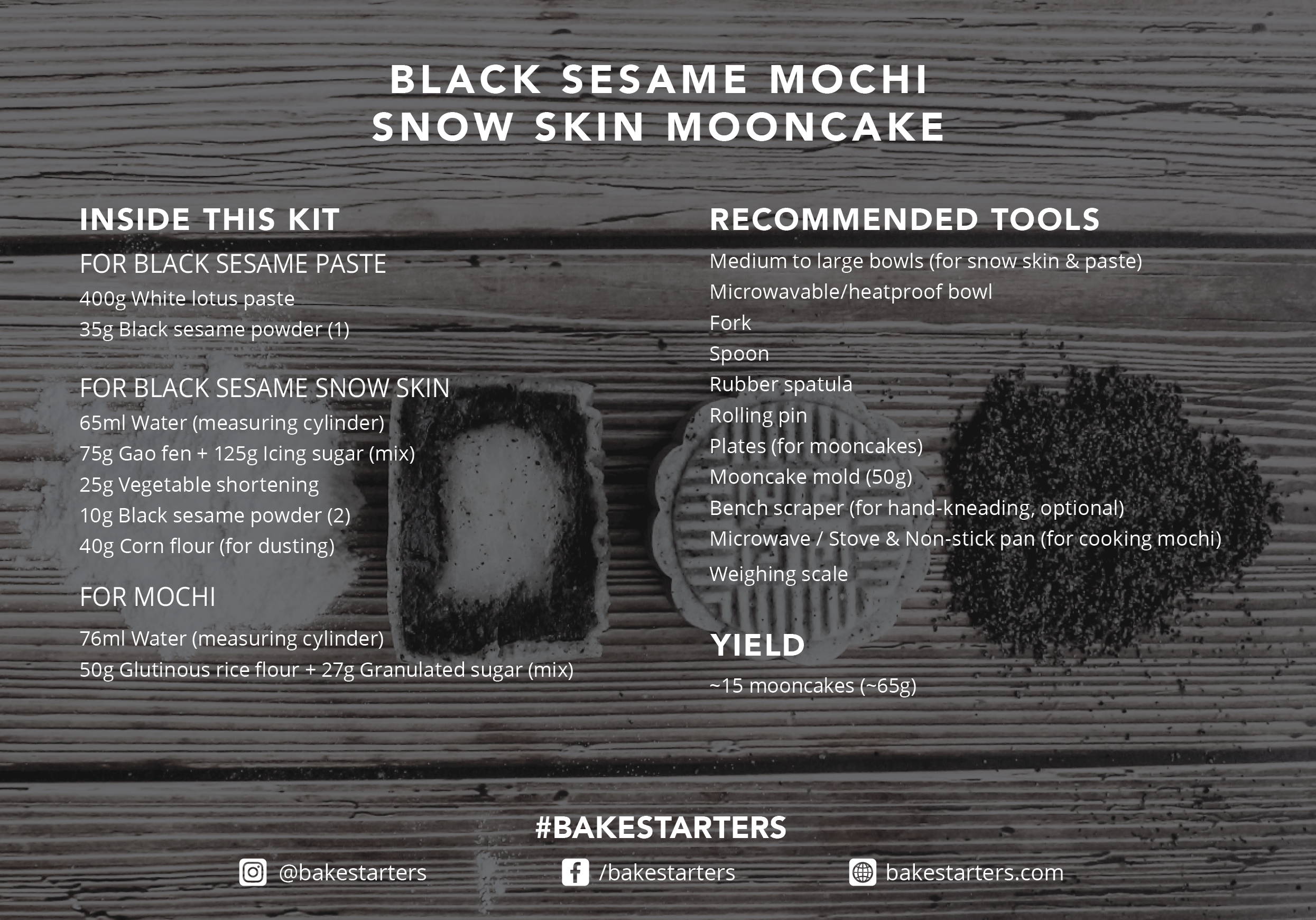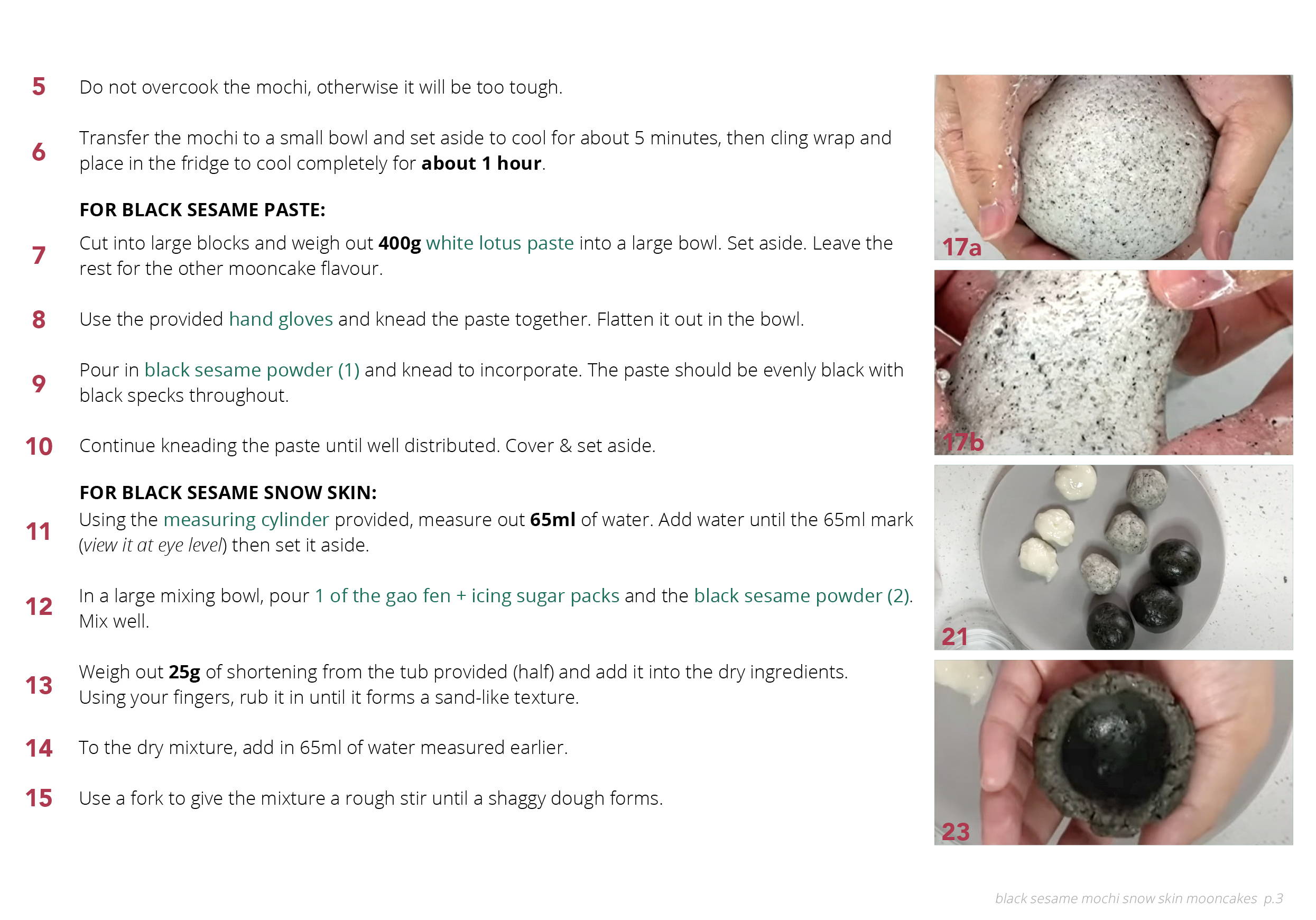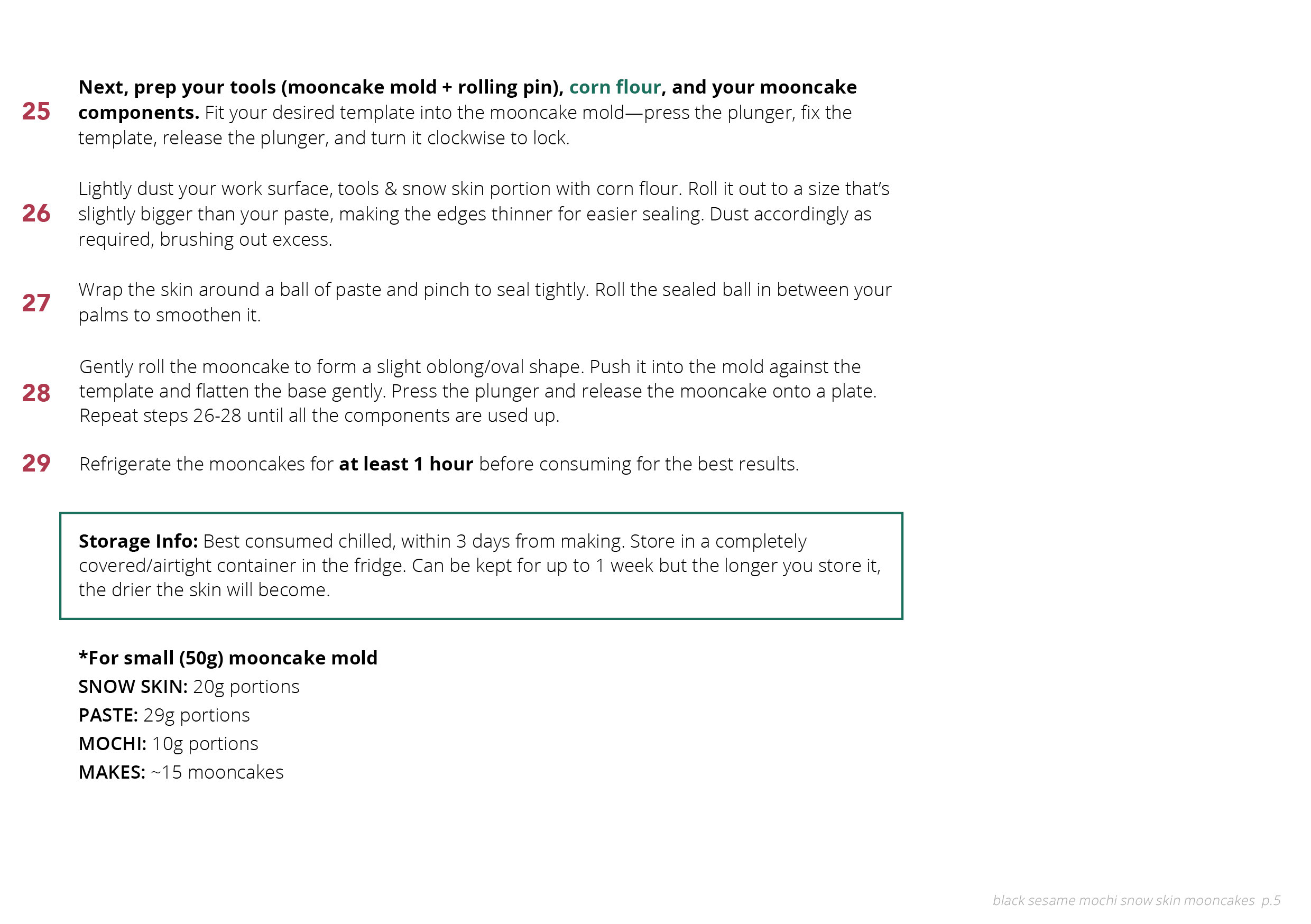 Tips for making your snow skin mooncakes
For the snow skin dough:
Ingredients: The ingredients in the kit are meant for 1 full recipe of these two mooncakes (~15 each). You are supposed to use

all

that is given, according to the recipe's directions.
Splitting the lotus paste: You'll need to split the lotus paste into

600g

for the Hojicha/Kinako, and

400g

for the Black Sesame flavour.
Measuring out the water: It is important that you view the water level on the measuring cylinder at eye level to prevent any parallax errors. The measuring cylinder can be reused to measure out other liquids.
Rubbing shortening: When rubbing shortening into the dry ingredients, use your thumbs to press the shortening into the dry ingredients, against the rest of your fingers. Keep doing it until the whole mixture resembled fine crumbs. Remember to scoop the bottom of the bowl to ensure that the shortening is evenly distributed throughout the dry mixture.
Kneading dough: You may split the snow skin dough into multiple smaller portions for easier kneading. You can knead it the same way as you knead bread. A bench scraper/flat tool will help greatly in kneading and thoroughly incorporating the ingredients in the dough.
Windowpane test: Watch the tutorial video to see how the windowpane test should look like. If you're unable to pass the windowpane test after a few tries, your snow skin dough is not done, continue kneading and test again.
For the paste:
Storage: Once opened, store in the vegetable compartment or chiller. The paste will feel oilier during used if you refrigerate it. It can still be consumed (if unopened).
Assembly:
Portioning: You may gently cling wrap your scale to keep it clean. Don't wrap too tightly as this will affect your weights.
For 100g–150g mooncakes, you'll have to use the bigger mooncake mold meant for 100g–150g mooncakes. If you have the bigger mooncake mould, it is not advisable to use the ~50g mooncakes measurements given in the recipe, as this will result in very flat mooncakes.
You may brush excess corn flour/kinako powder from the surface of the mooncakes with your fingers, a pastry brush, or a damp paper towel.