Flour plays a very important role in baking and cooking. It provides structure to baked goods and determines their texture. Some flours even give additional flavour. 
You've probably seen many types of flour lining the supermarket shelves, but do you actually know the difference between them and what foods they can be used for?
This article will list and explain all the types of flour you commonly find in Singapore, how to use them, and how to substitute them if a recipe calls for it. 
Read on to discover the unique characteristics of each flour and their applications. Having a better understanding of these flours will definitely help you bake tastier and better-looking treats!
15 Types of Flour You Can Find In Singapore
Here's a summary of all the flours that will be mentioned in the article. Click on the links below to go straight to them.
Wheat Flour
Wheat flour is the most common type of flour in baking and cooking. 
There are several types of wheat flour available, and they're classified into different categories based on their protein content. 
Strong flours are the ones that contain a high amount of protein. Examples of strong flours are bread flour and semolina flour. These flours provide structure and elasticity in bread and other types of dough, such as pasta and noodles. 
On the contrary, weak flours contain less protein and will produce tender, delicate products. A weak flour we commonly use in baking is cake flour. All-purpose flour, which is very versatile, lies in between strong and weak flour.
Bread Flour

Image source: FairPrice
This is the strongest type of flour, with a protein content ranging from 12 to 14 percent. 
Using bread flour when you're baking any kind of bread is highly recommended, as the high protein content helps the dough develop gluten and a sturdy structure. 
Using bread flour will also help your bread reach its maximum rise, get a chewy crumb, and form a wonderful brown crust.
Make our No-Knead Cinnamon Raisin Bread with bread flour to get the right texture and chewiness!
How To Substitute Bread Flour
If you're in a pinch, you can substitute bread flour for the same amount of all purpose flour in bread recipes. 
However, using all purpose flour will make it harder for the dough to develop gluten and pass the windowpane test since it doesn't contain as much protein.
Gluten is also needed to trap the carbon dioxide released by yeast and retain the bread's structure, so bread made with all purpose flour will not rise as high.
To achieve the best results when you don't have any bread flour available, add a few tablespoons of vital wheat gluten to all-purpose flour to increase its protein content.
Here's how gluten works: 
All Purpose Flour

Image source: FairPrice
When a recipe only mentions "flour" without any other details, it is most likely referring to all purpose flour. 
Also known as plain flour, it is made from a mixture of hard and soft wheat, resulting in a moderate protein content ranging between 10 to 12 percent. 
All purpose flour is the most versatile among the others. 
It can provide a strong structure to bread, but it is also soft enough to produce tender baked goods such as cookies and pastries. 
Savory dishes like scallion pancakes and omelette crepes also use all purpose flour. If there's any flour you should stock up in your kitchen, it's all purpose. 
How To Substitute All Purpose Flour
You can substitute all purpose flour with the same amount of cake or bread flour, depending on what you're making. For baked goods with lighter texture such as cakes, cookies, and pastries, use cake flour. In bread or pizza recipes, use bread flour. 
Cake Flour

Image source: Prima Flour
With a low protein content between 5 to 8 percent, cake flour is the most suitable flour for baking cookies, cakes, muffins, and scones. 
The lack of protein makes it harder for gluten (the stuff that gives your baked goods structure, chew, and density) to develop in your baked goods.
Less gluten formed in the batter means that the resulting baked goods will be fluffy and tender. Bake these Citrus Cream Cheese Cupcakes using cake flour to make them ultra-soft!
How To Substitute Cake Flour
If you don't have cake flour, you can substitute every 100 grams of cake flour with 85 g all purpose flour + 15 g cornstarch.
Cake flour makes wonderful cakes and cookies, but it's better to avoid using cake flour when baking bread. It won't develop enough gluten that creates the sturdy structure of bread. Bread made with cake flour will not be able to rise sufficiently too. 
Semolina Flour

Image source: RedMan Shop
Semolina flour is not a common ingredient for baking, but it's actually the main ingredient in pasta!
The high protein content in semolina flour (13% or more) gives pasta dough its elasticity and prevents it from being too sticky, thereby making it easier to shape.
The tough structure attributed to the large proportion of gluten in pasta dough helps pasta hold its shape when cooked. 
Although uncommon, you can also use semolina flour to bake bread and pizza, which also require high-protein flour.
Besides the high protein content which helps with structure, semolina also imparts a sweet, nutty flavor to baked goods. 
If you're thinking of buying semolina flour but worry that it might be underutilised, you can actually use the leftovers for other things!
Sprinkle semolina flour onto vegetables to make them crunchier or use it for dusting pans; you can also incorporate them into many other types of desserts such as semolina cakes and pies!
How To Substitute Semolina Flour
You can replace semolina flour with an equal amount of bread or whole-wheat flour. Since they also have a high protein content, they will work as well in recipes that use semolina flour.
Whole-Wheat Flour

Image source: FairPrice
Most types of wheat flour such as plain flour and cake flour are stripped off the wheat germ and bran during the milling process. However, to make whole-wheat flour, these components are added back instead of being discarded. 
These additions give whole-wheat flour a higher fiber content, and is thus frequently incorporated in the making of healthier baked goods.
Whole-wheat flour is considerably high in protein, but the presence of wheat germ and bran prevents it from getting a completely soft and chewy texture.
As you knead the dough, the sharp bran flakes will cut through the gluten formed by proteins. Wheat germ and bran also add some weight to the dough, which results in less rise.
These two factors make whole-wheat bread denser than regular white bread.
To produce baked goods with pleasant textures, whole-wheat flour is usually combined with white flour (bread/all-purpose/cake) with a ratio of up to 1:1.
If a larger amount of whole-wheat flour is used, your baked goods are likely to be unpalatable. 
How To Substitute Whole-Wheat Flour
Although it won't produce the same results, you can replace all the whole-wheat flour in a recipe with the same amount of bread flour.
All purpose flour is also a possible substitute, but the result will be fluffier and less dense since it has a lower protein content.
If you can get some wheat germ, mix 3 parts all purpose flour with 1 part wheat germ to replicate the properties of whole-wheat flour.
Top Flour 

Image source: Giant
 If you're going to bake chiffon cakes, swiss rolls, or any kind of baked good that has a smooth and delicate texture, we highly recommend getting top flour instead of the usual cake flour. 
Top flour is also made from soft wheat (just like cake flour), but it is processed to achieve a softer and finer texture. Therefore, baked goods made using top flour will be even more tender and have a very fine crumb.
Try making these Soufflé Pancakes with top flour to give them the ultimate melt-in-your-mouth texture⁠—just like the ones you find in cafés!
How To Substitute Top Flour
You can replace top flour with the same amount of cake flour since they're similar in terms of protein content. You won't get the same smoothness using cake flour, but your baked goods will still be light and airy.
Gluten-Free Flours
Whether it's for health reasons or to achieve certain desired characteristics in baked goods, gluten-free flours are gaining popularity. 
Gluten-free flours have several things in common besides not having any gluten content. This includes softening the texture of baked goods and being able to be used as thickening agents. 
Here are some commonly found gluten-free flours you'll find in Singapore.
Corn Flour/Cornstarch

Image source: RedMan Shop
Cornstarch, also known as corn flour, is made by grinding corn kernels into a fine powder. It is most often used as a thickener in cooking (e. g., stir-fries), but you can also find cornstarch used in custards, cake fillings, and pie fillings.
Apart from being a thickening agent, you might also find cornstarch added to various baked goods such as cookies and cakes, to add tenderness.
For instance, substituting 1 or 2 tablespoons of regular flour with cornstarch will give cookies a melt-in-the-mouth texture without making it too crumbly. Similarly, using cornstarch when baking a cake will give it a softer texture. 
How To Substitute Cornstarch
If you don't have cornstarch, you can substitute it with the same amount of arrowroot flour or potato starch. You can also use tapioca flour, but double the amount. Rice flour also works well—use triple the amount of rice flour to replace the cornstarch.   
Tapioca Flour

Image source: FairPrice
Tapioca flour is a type of gluten-free flour that has a very fine and light-colored appearance. 
It has pretty much the same functions as cornstarch—for thickening and modifying the texture of baked goods. 
Aside from cooking and baking, tapioca flour is also the main ingredient for making our favorite treat: tapioca pearls.
Another benefit that tapioca flour can give your food is giving it a light (but chewy) texture and crisp crust. 
How To Substitute Tapioca Flour
It can be used interchangeably with cornstarch, but double the amount used if you're substituting cornstarch for it. For example, use 2 tablespoons tapioca flour if your recipe calls for 1 tablespoon cornstarch.  
Glutinous Rice Flour

Image source: Giant
As its name suggests, glutinous rice flour is made from ground glutinous rice. 
It is most widely used in Chinese snacks and desserts such as fried sesame balls (jian dui) and tang yuan. 
The most distinguishing characteristic of this flour is the way it thickens and becomes stickier when it's heated. 
The starch molecules in the flour will absorb water, expand, and eventually burst. It creates an invisible network of "sponge" which immobilizes water and thickens any mixture it's in.
If you're looking for glutinous rice flour to make sesame balls or tang yuan, make sure you're getting the type that is made from long-grain glutinous rice instead of short-grain, as the long-grain type can help to produce a crispy surface and stiff, chewy texture.
How To Substitute Glutinous Rice Flour
You can replace glutinous rice flour with tapioca or potato flour in recipes where it is being used as a thickener. However, replacing glutinous rice flour with these flours is not recommended if the glutinous rice flour is being used as the main ingredient. You will not get the same results.
Potato Starch

Image source: FairPrice
Since both potato starch and potato flour exist, you might assume that they're interchangeable, but that's not the case!
Potato flour has a natural beige colour, and it is made by drying and grinding whole potatoes. Meanwhile, potato starch is extracted from crushed potatoes, then completely dried until a fine, white power forms.
In cooking and baking, potato starch is generally more applicable and versatile. It has a light, fluffy texture and almost no flavor at all, making it suitable for replacing cornstarch or any other gluten-free flour. 
Similar to cornstarch, potato starch can also help to lighten the texture of baked goods.
How To Substitute Potato Starch
Potato starch can be replaced with the same amount of rice, tapioca, or arrowroot flour.
Almond Flour

Image source: RedMart
Almond flour is probably the least processed type of flour in this list. 
It is made by blanching almonds, grinding them, then sifting the ground almonds into a fine flour. Hence, it will impart a distinct almond flavor if used in baked goods.
It is also becoming increasingly popular in making gluten-free and keto-friendly treats, and is a common ingredient in making macarons. 
Almond flour has a considerably high fat content, making it great for baked goods where a moist and tender texture is desired (such as pancakes and soft-baked cookies). 
How To Substitute Almond Flour
If you're thinking of replacing some of the wheat flour in a recipe with almond flour to add tenderness and moisture, it is safe to substitute up to 1/4 (25%) of the total flour in a recipe with almond flour.
If a recipe calls for almond flour and you don't have any, you can substitute it by blending whole almonds in a food processor to make almond meal. However, this will give your baked goods more of a cake-like texture.
If you can find cashew, macadamia, or oat flour, they also make great substitutes for almond flour!
Buckwheat Flour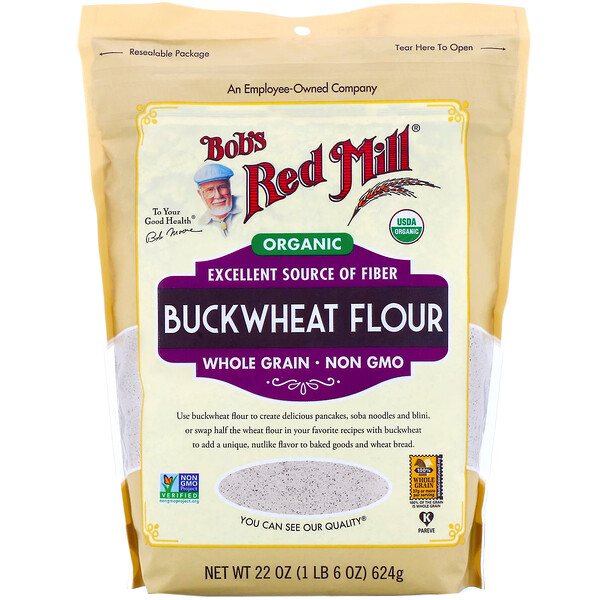 Image source: iHerb
Buckwheat flour is commonly used as the main ingredient in soba noodles, but it can also be added in other baked goods such as pancakes, blinis, and crepes. 
Compared to food that is only made using wheat flour, items that are made using buckwheat flour are typically more complex in terms of flavor. Buckwheat flour imparts a nutty, earthy, and slightly bitter (but palatable) taste.
Apart from being a tasty gluten-free ingredient, buckwheat flour also increases the nutritional value of your food, as it is high in protein, fiber, and minerals. 
How To Substitute Buckwheat Flour
In recipes that use other types of gluten-free flour (e. g., rice flour), you can try substituting up to half of it with buckwheat flour. The flavor profile of the finished product will definitely change, but try it and see if it's something you'd like!
If you're not aiming for gluten-free baked goods, you can substitute buckwheat flour with all purpose flour. However, since all purpose flour can develop gluten, the structure of your bakes will be sturdier.
Sago Flour

Image source: FairPrice
Sago flour is a type of flour obtained from the extraction of sago palm. 
It is often used interchangeably with tapioca flour since these two flours have similar characteristics, although they come from different plants.
Sago flour comes from sago palm trees, while tapioca flour is made from cassava. 
They're also commonly processed into different products. Tapioca flour is the main ingredient for the pearls in our bubble tea, while sago pearls can be found in traditional desserts like sago pudding. 
Apart from sago pearls, sago flour is also a great ingredient for making bread, biscuits, and crackers. If you've ever tried sago cookies, these delicate cookies with an addictive melt-in-the-mouth texture is a popular example of sweet treats made from sago flour. 
How To Substitute Sago Flour
Like the other gluten-free flours, sago flour can also act as a thickening agent. When a recipe requires sago flour and you don't have any, it can easily be replaced with the same amount of cornstarch or tapioca flour.
Miscellaneous Flours
These types of flour do not belong in any of the previous categories, but they are commonly used in baking. Learn more about these flours to get the most out of them.
Self-Raising Flour

Image source: Giant
Self-raising flour is made by adding baking powder and salt to low-protein wheat flour. 
It is best used for baking cookies, muffins, cakes, and anything that needs a fair bit of rising action.
When you get a package of self-raising flour, we recommend finishing the whole bag within 6 months to prevent the baking powder from losing its strength.
How To Substitute and Make Your Own Self-Raising Flour
Since self-raising flour has leavening agents added, there's no way of replacing it with another flour that doesn't have any leavening agent. However, you can make your own self-raising flour by combining 120 grams of all-purpose flour with 1 ½ teaspoon of baking powder and ¼ teaspoon of salt.
Hong Kong Flour

Image source: Prima Flour
Hong Kong flour (also known as Pao flour) is essentially an all purpose flour that is highly bleached. This process gives it a pure white color. 
It is recommended for making Chinese steamed buns or other types of dim sum where a pure white color is desired. 
Using cake flour or all-purpose flour will give the finished product a noticeable yellow tinge, since these flours are freshly milled and do not undergo any additional processing.
Besides improving the flour's appearance, the bleaching process also helps to break down more proteins in Hong Kong Flour, making it softer. If you've always wondered how steamed buns get their soft, fluffy, cotton-like texture, this is the reason!
How To Substitute Hong Kong Flour
Hong Kong flour is similar to cake flour, except that it's highly bleached. You can use cake flour in place of Hong Kong flour, but be prepared for your paus to have a slight yellow tinge!
Choosing the Most Suitable Flour for Baking and Cooking 
With the countless types and variations of flour available in the supermarkets, it is normal to get overwhelmed. 
We hope this guide to all the different types of flour in Singapore gives you a better understanding of how they are made and used, and how to substitute them in your recipes!
However, do note that before substituting flours in any recipe, it is important to find out their purpose in the recipe before attempting to replace it with another ingredient. 
If your substitute flour is unable to fulfill the original flour's purpose in the recipe, then making the substitution is unlikely to give you the results you are looking for. 
Here are some articles you might like: